We are pleased to announce that version 5 of SpaGuru is ready to be released. We've completed and implemented over 50 improvements and new features in this version. Below you'll find a few of the major new features and improvements available.
New Office 2016 Style
The first thing you'll notice in SpaGuru 5 is that we've updated all screens to the flatter, more modern user experience that Microsoft recently introduced in Office 2016.
Menu Navigation Changes
We've changed the location and naming of a number of SpaGuru areas to increase the intuitiveness of the menu system.
For instance, the Financial section has been removed and Client Documents and Receipts are now found under the Clients section. The Client Documents area has also been shortened to Sales to make it clearer. You will find all your usual client documents under this section.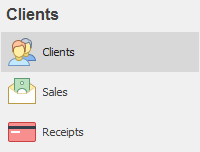 A new Suppliers section has been added. Under this section you will find your Suppliers and Supplier Documents. Again, we've shortened the Supplier Documents name to Purchases.
The Employees section has been extended to include the Gratuities section.
Finally, a new Items section contains your Services, Inventory, Vouchers and a new Price Lists area. Based on numerous feedback, we've also renamed Inventory to the more common name of Products.
Price Lists
We've added a new Price Lists function to SpaGuru to give you more flexible control over the prices you charge for your products and services. The Main Price list gives you an overall view of all items for sale, and also provides a function to bulk update prices in a number of ways.
You can also create new price lists and set a variety of conditions that must be met in order for the prices to apply. These include a specific date range, day of week, membership and employee type.
If you are currently making use of Membership or Employee Type specific rates, you will find Price Lists have been automatically generated based on your existing set-up.
Employee Scheduler
We've completely revamped the existing employee scheduler section to make use of a full scheduler control, much like your normal booking calendar. The new scheduler is more user-friendly, and allows you to easily resize, move and create your employee schedules with ease.
Instant Search
All existing search screens have been revamped to automatically search as you type.
Filtering and Screen Navigation
The controls to filter and adjust dates have been moved from the tool-bar to an area above the controls that they affect. For date navigation you'll find new Previous, Today and Next buttons on the main tool-bar.
Mobile Payment Support
We've added support for two of the most popular mobile payment methods, Zapper and SnapScan. Configuring this add on will automatically insert a QR code onto your invoices that your clients can scan with their mobile phone apps to easily make payment for their bills.
Improved Payment Methods
You can now customize the names of your payment methods, and we've also introduced a new option to allow Loyalty Points to be used as a payment method. If you decide to use this option, your clients can earn Loyalty Points as a currency value, and use them to pay for future invoices at any point.
Vouchers have been extended to now allow for partial redemptions. So instead of holding a credit on the clients' account, the voucher itself will deduct and track how much of it has been used. This is great if you are making use of gift cards and want to track this in SpaGuru.
And More...
The above items are a just a few of the major changes that SpaGuru 5 introduces. For a full list of changes please consult the What's New in SpaGuru 5.0.0 article.
This update will be rolled out in a staged release, if you are interested in being one of the first clients to receive the new update please let us know at support@spaguru.co.za.
Important Note Regarding Windows XP
Microsoft officially ceased support for Windows XP over two years ago. Apart from the security risk of using Windows XP given the lack of updates or support, there are also a number of features that Windows XP cannot support. For this reason, version 5 of SpaGuru will only be supported on Windows Vista and up. This includes Windows 7, Windows 8 and Windows 10.
If you are still using Windows XP you will need to upgrade to a newer version of Windows in order to successfully update to SpaGuru 5.